Joe Blades was a devoted friend and talented artist, whose legacy will live on gracefully. Blades was a poet based in Fredericton, NB, who impacted the community of UNB and the greater Fredericton area. 
Originally from Halifax, Blades eventually attended the Nova Scotia College of Art and Design to realize his various artistic talents. Blades was an artist, "an everyman." He wore many hats, much for the benefit of surrounding artists.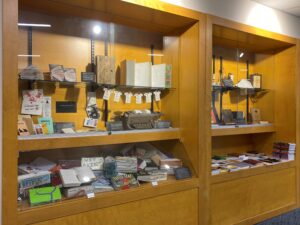 Broken Jaw Press, Blades' independent publishing company, gave many local artists their first opportunity to publish their work. The company ran from 1984, until his death in 2020. Writers like RM Vaughn and David Adams Richards were first published by Broken Jaw and have gone on to have substantial careers in the arts. In UNB's collection alone, there are over 170 Broken Jaw books, including Blades' own work. 
Kim Vose Jones, a colleague and friend of Blades, spearheaded the university-wide tribute to the late poet, which has included detailed displays of his art and readings of his poetry by his family and friends. Blades is remembered for his interactions and observations with those around him. 
"He would collect every little bit of his life everywhere he went. A lot of his poems are about observation, just watching. People go by on the streets and he would sit, observing life and observing his own interactions with the world around him," says Jones. 
These everyday observations were transformed into poetry that he would keep in his loyal notebooks with very strong spines. 
"They're known as the books that don't close because they physically can't close. And they're works of art, each one of them individually. They're full of little interesting things," Jones points specifically at a notebook that cradled a tiny sardine in the binding. Blades himself may as well be on display, considering the number of his experiences were within the pages of the notebooks. Not just of his own life, but as the witness of others' experiences. 
While he was primarily a poet, his love for visual arts is also apparent. Blades' love for props and detailed design is also highlighted in the display. He would dedicate so much time and effort to the most specific props for certain plays or films he was in. From a cigarette box with the words, Life will Kill you, to newspapers, to milk cartons and alcohol bottles, Blades proved to be a jack of all trades. He took great pride in his work and wanted his collaborations to benefit everyone involved.
"I keep saying this, but Joe would always show up for other people. Even other artists and other events. He was always trying to help other people and he was just very generous to people. And he had his little hand and everything. He was a union organizer here on campus and even in the greater community, so it was never a surprise to see Joe at an event. You could be at a union event and Joe's still there holding a sign, or you're at a poetry reading. Oh, there's Joe. And there's someone's art opening and there's Joe." 
Just like during his life, UNB students, faculty, and staff can turn a corner, and there's Joe, still all around.